Smecky Music Studios offer not only regular attended recording sessions but remote recording via the internet as well. We have more than fifteen years of active experience with this modern recording approach, which is becoming much requested by overseas clients. During this time we have fine-tuned our technology and developed a totally reliable and highly effective workflow.
The combination of remote recording technology, SMS's studio acoustics, and equipment is unique and very popular.
Advantages consist not only of lower production costs (no plane tickets, hotels, etc.) but time-saving without any recording quality loss. Clients can use their own or local recording studios to monitor the sessions in Prague and after the sessions, recorded files are prepared for high-speed download on our secured cloud platforms such as Dropbox or Wetransfer.
We offer two remote recording options, both based on Source Elements software.
Source Live
Source Live is by far the most popular option. Clients do not need anything else but their own computer with a standard web browser such as Chrome or Firefox and a high-speed access link for quality studio monitoring.
In 2022, we developed a new workflow, utilizing Source Live's chat functions, that enables our clients to talk back directly to our control room and conductor using only their computer's microphone. The video stream from our studio and a video chat between our clients and the control room is a matter of course. Hence, there is no need to use additional software such as Zoom, or Skype, although, if needed, it can still be utilized.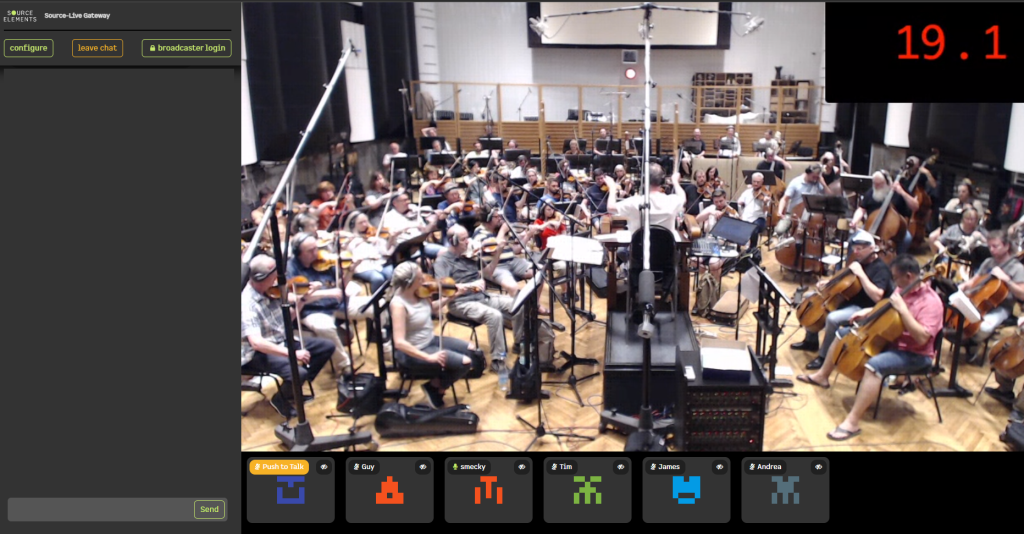 Source Elements Pro
This option is aimed mostly at film productions. It requires a Source Connect Pro software on the client's side and offers, in addition to Source Live's features also the real-time synchronization of Pro Tools session data into the client's studio.
If you are interested, do not hesitate to contact us for more specified information or pdf information file.